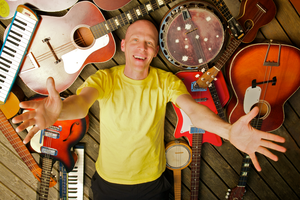 Chris Ballew, front man of the popular alternative rock group The Presidents of the United States of America is not only a talented musician and lyricist, he is also a father.  And, given the signature quirky style which he employed to make The Presidents such a huge hit, it doesn't surprise many people I talk to to find out that he is now also making music targeted specifically towards kids.
Over on my blog 'Luke, I am Your Father' I recently did a review of his upcoming 3rd studio release under the kid music moniker 'Caspar Babypants'.  Let's just say, I liked it.
So, when I received an email from Chris thanking me for the review, I summoned my inner Carpe Diem and asked him to answer a few questions for Dad Revolution.  They are about being a musician, a philosopher, and more importantly, a father.  
1.  Chris, what was your inspiration for shifting your focus from the Alternative Rock, which has made the Presidents so popular, to Kindie pop?

Well, I have been tinkering in the studio the whole time that the Presidents had all that success. I was looking for the next musical destination although I didn't really know it. It turned out that when I found the right combination if innocence and simplicity and sampling from the past it turned out to be kids music!

2. And, what is the genesis behind the name Caspar Babypants?

I changed my name to Caspar Babypants in the early 90s actually but I couldnt get my family to call me that so I gave up on it. I picked Caspar because I never really liked my first name that much. I thought Chris was a little blank. Then I wore a pair of hand made babys pants on my head one winter in Boston and the kids in the neighborhood started calling me "babypants" so I put the two together and it fit! And the initials are the same!

3.  One of my favorite songs from your Caspar Babypants debut is a duet you sing with your daughter?  Would you, as a father, encourage her to become a musician if she were so inclined?
Sure thing. But I put NO pressure on them to do music. She is a great conceptual thinker and that might come out in music or something else that I can't imagine now. They do not have the clear choice thing going on like I did when I was a kid. I knew it was going to be music since I have memories. 

4.  As your kids grow, will your musical focus once again move away from Kindie, or is this a niche you see yourself occupying permanently?
My choice to do this music is based on a lifelong search for this specific chemistry of sound and topics and feel. At this point in time I feel like I have found my home and I am going to stay in it as long as I can! I LOVE LOVE LOVE IT!
5.  What are your biggest challenges balancing your time as a working father?  Do you feel you have struck a good balance between doing what you love to do and giving of yourself to your family, or is that something you still work on?

Well its great that I can bring my family to shows and the kids can play along! So in that way I can get them involved in my "work". But there is a bunch of stuff that I have to do that has nothing to do with music (INTERVIEWS!!) and balancing that with time with the kids is a challenge. There is always something on the to do list so I just have to take a deep breath put it away and take time to be fully engaged with the kids.
6.   Do you, or will you, tour while your kids are young?  If you do tour, how do you arrange your time so you can interact with your kids?

I "tour" with the Presidents a bit. A few weekends here and there we will get on a plane and go play but Caspar shall never tour in the conventional sense and if I do i will try to take them with me. We are a two household family so finding time to take them with me might be hard. I really dont want Caspar to depend on touring for income. I really make this music to work in the home and car for stressed out families and the live thing is an afterthought really.

7.  Any advice you would give to a new dad
Wake up with your baby EVERYDAY!

8.  What kind of life philosophy do you want your kids to learn and grow up with?
Death is nothing more than a mystery. Leave it alone. Slow down and breathe. Enjoy being as much as doing.

9.  Your albums have your own quirky style that really appeals to both kids and grown-ups.  Are there any artists that you recommend parents consider when adding to their "kid" music?
Charlie Poole. Ella Jenkins. Spider John Koerner. Bob Dylan (first album only), The Beatles (DUH!), Ravi Shankar, Woodie Guthrie and THE PRESIDENTS!!
 10.   And,  a bonus question.  Do you have a kitty, and how much ATTENTION does it demand?
NO KITTY! My wife is allergic! If I did I would have a little white cat and name it Susan Williamson. 
Thanks Chris.  You are always welcome to come back and write a guest post for Dad Revolution.
Wait, there's yet another bonus.  Just leave a comment below and I'll enter you in a giveaway for a copy of the soon to be released album 'This is Fun' by Caspar Babypants.