I visited the town I grew up on this past weekend. It's a small town in NEPA that North East PA. It's funny how small and old things seem compared to when I was a child. I drove by my old house and I drove by my dad's old office. It turns out my dad lives three blocks from where he practiced medicine for fifteen years before he sold his practice. He moved back to the area after fifteen years in the south. I wasn't there to visit my father although I would have liked to have visited him. I was there for a friend's wedding. The fact that I wasn't there for my dad didn't stop me from trying to visit with him unfortunately he decided not to answer the phone and I didn't get to see him. I was compelled to drive by his house but I didn't stop. I guess I figured if he didn't answer the phone then he probably didn't want to see me.
 You see for the last year my father and I haven't really been speaking and it sucks. Tonight I guess I just want to recall some of the good memories. Rather than recount the reasons we are not speaking.
 I think my favorite memories of him are from the beach. He always had some work that had to be done but he was with us the whole time and he didn't have to leave for two weeks straight every summer. He wasn't all consumed with the work it was just patient charts he had to keep up with. The beach was always fun as we did things
like help make our home movies. These were the old real to real 8mm movies. I got to help with the splicer and it was a blast. At the end of the vacation we would always have a movie night where we watched the movie we made of the previous year. We had pop corn and the whole family enjoyed it. Sometimes we did science experiments. We would gather beach specimens and then examine them under our microscope. We always went to the board walk where my dad had to order Gyro from one specific restaurant b/c according to him they were the best. We also spent a ton of time in the water together. The beach was definitely one of the better experiences with my dad.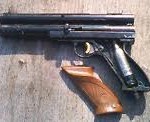 Another experience with my dad that I truly enjoyed was playing paint ball. We started playing in the early days before there were automatic weapons and it was an exceptional way to teach a child how to handle a gun. He taught all of us (me and my sisters) how and where to point it, how to aim and generally what to do with a gun. We (my dad and I) also had a great time running around the woods with the other guys who played. It was always fun and one of the few times in life where it really didn't matter who won each game.
 The last memory I'll recall for this post is when we would go out on the lake and row. He had a two man ocean skull. We never put both rigs in together. Only one of us would row at a time. I think my father was afraid I might catch an oar if we rowed together but the time we spent out on the water was wonderful and we had many great conversations. It was here that he taught me to stand up for myself, the value of exercise, and what it means to be a caring father. Funny how things can change over time.
 I miss my dad and sure wish I could have seen him.