Our son Lukas turned 4 a couple of days ago. Being our only child, Mrs. LIAYF and I have each year held a party with a fairly large number of guests.
This year, we had hoped to scale down the party to a respectable number, but as it turned out for the 4th year in a row we ended up with a get-together which was larger, and more involved than the ones from previous years. This party, which was a huge success, had a Superhero theme complete with custom capes made by my lovely wife, and had a guest list of more than 60 friends and family, including nearly 30 kids.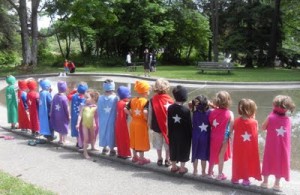 But, if you are thinking "Wow, I wonder how much loot he scored with that many guests?", the answer is actually none.  That's because, as a rule, we ask that gifts not be brought to the birthday parties we throw for our son.  After all, how many toys does one kid really need?
Instead, like I suspect many families do, we ask rather that guests – optionally, of course – bring something else to the party.  On his 1st and 2nd birthdays, we asked held a diaper drive for a local organization which benefits needy families.  This year, like last, we instead asked that guests bring a non perishable donation to support our local food bank.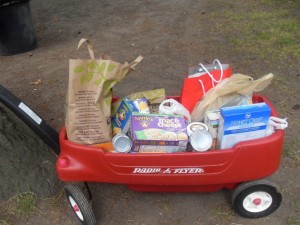 We didn't collect a ton of food, but it was enough to make a difference for at least a few needy families, and we also are donating some left over food items from the party, such as juice boxes.  Of course, the reasons for this are thoroughly explained to our now 4 year old son.  We want him to grow up with the knowledge that helping others is the not only the right thing to do, but something that should come naturally.
Today, Mrs. LIAYF will pick him up from preschool early, and take him to the food bank where he will get to drop off his gift from the party.  Then on Friday, it's off to Seattle Children's Hospital to drop off the leftover Superhero capes his mother so lovingly made for all his friends.  Of all the gifts he ended up getting for his birthday week, we are hoping these are the ones that last.
He thought it was a terrific idea.