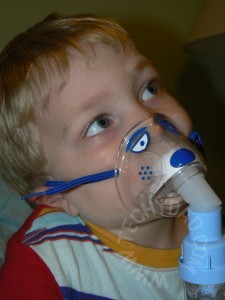 The start of the school year means new friends, new teachers, new things to learn and, all too often, new germs to bring home.  Unfortunately, JSL seems to have found a shiny new germ to bring home.  Specifically, he has a cold.  No fever (thank goodness, given his history of febrile seizures), but his nose has been stuffed up and he's now begun coughing.
I don't think I need to tell you that colds are no fun.  First, we need to convince him to take his nose drops.  And by convince, I mean pin down while he squirms and screams.  It breaks my heart to do this, but I know that the medicine helps him.  That said, you don't know how strong a three year old can be until you try to pin him down to give him medicine.  Seriously.  Is he secretly benchpressing 200 pound weights or something?
To help him with his breathing, we've begun giving him his nebulizer treatments.  That's the puppy mask on him in the photo.  The nebulizer open up his airways to help ease his asthmatic breathing.  He likes these more than the nose drops.  He doesn't even fight us (much) when we put on the mask.  After it goes on, though, he asks "is it done yet" every second.  No, I'm not exaggerating.  He literally was asking the question once per second until he was done.  No, JSL, I said you weren't done 10 seconds ago and I doubt things have changed since then.  At the very least, wait a whole minute before asking again.
A sick JSL also means that he had been pulled into our bed.  This is to keep an eye on him until he gets better. There is no downside for him.  He loves being in mommy and daddy's bed. For us, however, having another person in the bed can be a pain.  Literally.  He will turn sideways and wind up kicking us all night long.  Plus, he will slowly move towards me as the night progresses until I only have a sliver of bed left.  He wakes up as refreshed as one can be with a cold.  We, however, wake up tired from the combination of worry over every sound he makes, having reduced space to sleep in and being kicked and poked all night long.
On the bright side, perhaps tonight will be the night that he finally sleeps in his own bed again.  Oh, did I mention that JSL likes sharing.  Especially with his big brother.  And that said big brother is sneezing now?  Here we go again!
Update: I wrote this last night and JSL wound up sleeping through the night in his own bed. Huzzah! On a hopefully unrelated note, why is my throat feeling scratchy?