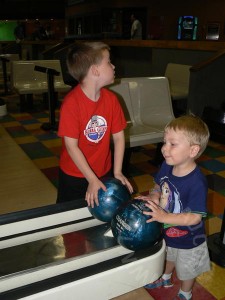 Growing up, I didn't like many sports.  I wasn't good at baseball, couldn't sink a basket and would be ignored on the football field.  One of the few sports I actually liked was bowling.  I have many great memories from the lanes.
NHL had been bowling before but JSL hadn't been.  On Father's Day, we decided to take the boys to a local bowling alley.  During the game, two things became apparent.  One: JSL didn't have enough power to get the ball to the end of the lane in under three minutes.  Two: NHL was getting way too upset over the fact that my score was higher than his score.
JSL's problem was easy to solve.  I went to the beginning of the lane with him and kneeled down beside him.  After he pushed the ball down the alley, I would give it a gentle shove.  The accuracy on the ball suffered, but JSL was happy just to knock a single pin over.  (The four spares were total flukes.)  Plus, we didn't have to wait twenty minutes to finish out each frame or call the manager over every time JSL released the ball in order to retrieve it from halfway down the lane.
NHL's problem was a little trickier, but I haw it as an opportunity to use bowling to teach a life lesson.  First, I told him that I've been bowling since I was his age.  Next, I told him that, when I was his age, my scores weren't much better than his.  (Did I really say "when I was your age?!!!" I feel so old!)  I let him know that my better scores were only because I had practiced so much over the intervening years.
Of course, this didn't soothe NHL.  This was the time to bring out the philosophical big guns.  I told NHL that he should never compare himself against anyone else.  He should only compete against himself.  I let him know that he should constantly strive to make sure that Present NHL is better than Past NHL and that Future NHL is even better than that.
Who knew that life lessons could be learned at the bowling alley?  Have you found any life lessons for your children in unlikely places?