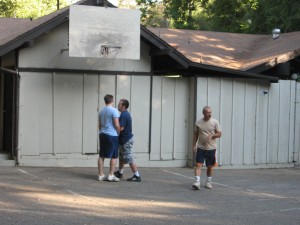 Basketball will always be how my brother and I remember our relationship with our dad. He is going strong at 60, still an iron worker, and doing a job more demanding then any I have had. But when I think about that relationship it is the basketball metaphors that come to mind. "How did he get open to make that shot?" This is the question I would get watching a basketball game with my dad. He didn't just watch the guy with the ball, he watched the whole game and taught me how to watch the whole game too. When we played he encouraged us and let us play, but when the game was over he would always coach us and help us get better. He loves the game of basketball and because we love him, we love the game of basketball too. I wonder if my boys will feel the same way.
Game three of the NBA finals is tonight and the series is tied one to one going to Boston. I have been a Lakers fan from the time we moved from the Northwest to Southern California when I was 12. I think it was childhood rebellion that led me to the Lakers, I would never not watch basketball with my dad, but I would choose to root for the team he despised most. Watching the first two games of these finals with boys in the room with me they could care less about the game. Far from enjoying the ball movement and help defense that both teams play they are most concerned with doing anything they can to get me to turn the game off. As I try in vain to suppress a swear from the latest bad call or porr execution, I think about those great memories of breaking down games with my dad and when and if my four year old will be ready for that.
I have decided already that what ever they love I will learn to love as well whether that is basketball and easy, or botany and a learning curve. Enjoying basketball with my dad wasn't so much the game as it was his supportiveness of my brother and I in what we loved. I know that if we wanted to sign up for dance classes he would have been just as supportive and that is what I want to model to my kids as well. That being for us over everything is the biggest lesson I take from my dad and pass on to my boys.
They may love the game and just choose the Celtics as their team, which would honestly hurt more then them not liking the game at all, or they may pass on the sport and choose something different. Either way I'm all in. Just like my dad was.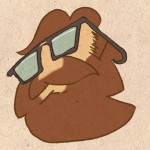 Portland Dad writes over at Stay At Home Dad PDX about raising two boys as a stay at home dad. You can also find him on twitter as Portlanddad.