The first official day of summer is June 21st which is exactly a month from today. The beautiful, warm weather means you and your little ones can start spending more time outdoors. Young kids love being outside, whether it be in the back yard, downtown doing errands, the park or pretty much any place where they don't have to sit still and be quiet. However, leaving the house with a baby or toddler is no small event. Here are some tips to consider before heading out and while on your outing this summer. These tips are geared more towards a short trip to the park, doing errands, etc. as opposed to a longer road trip or vacation away from home.
Attire and protection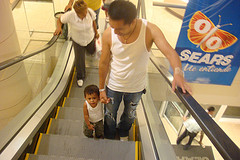 Dress your baby or toddler lightly–shorts, tank tops, a cool dress, sandals, flip flops and don't for get a hat to help keep the sun out of their eyes. If they are cool, dry and comfortable, it will make the outing so much easier on you.
If you will be in direct sun for any length of time apply some sun block/screen on your baby/toddler. There are products made just for their young, sensitive skin. You will want to try the product on a small patch of their skin first as some children may be allergic to the ingredients.
My personal dad tip: You also don't want to jump into a blazing hot vehicle with your baby so a few minutes before you actually get into the vehicle, start it up and turn on the air conditioner. If the weather is cool enough you can simply open up the vehicle and lower the windows to vent all the hot air. Also, try to park in the shade.
Your gear
Consider how long you will really be away from the house and pack accordingly. The key here is to pack lightly and keep organized. Here is my usual arsenal of baby gear.
One or two diapers, that's all.
A small packet of baby wipes, not the huge wholesale family pack.
A pocket size packet of tissues or a soft spit-up cloth. (To clean drool, boogers, etc.)
One or two servings of baby formula in an easy to despense container. You don't want to carry the whole can of formula because it's just too messy to scoop out when on the go.
One or two baby bottles with water already in them. When your baby needs a bottle simply dump one of the pre-portioned servings into the bottle. (Don't carry a bottle already mixed as the summer heat may make it turn bad before your child consumes it.)
A single, maybe two, change of clothes.
A small toy or two.
A snack for your little one.
My gear: wallet, phone, iPod, keys, sunglasses.
Keep things organized in your diaper bag and pack things horizontally, next to each other as opposed to on top of each other so you're not digging through it to find what you need. Also, try to pack it yourself so you know exactly where everything is.
My personal dad tip: I hate lugging around a diaper bag so when I can get away with it, my weapon of choice is a good, comfortable pair of cargo shorts. I simply pack the bare essentials in the cargo pockets and head out the door.
During your outing
Keep an eye on your child. This may seem obvious but during the summer, public places become much more crowded so don't let your child wonder off too far and don't take your eyes off of them.
Keep a cool drink handy for your child. They may not sit still long enough to drink the whole thing but offer it to them often so they can sip it and keep themselves properly hydrated while you're both out.
In the hot weather they will probably drink a lot of liquids so make time for frequent bathroom breaks. If your child is still in diapers, be sure to check them often to see if they are in need of a change. The last thing you want is your baby to end up with diaper rash.
My personal dad tip: Kids may not be willing to stop and take a drink but I've found that they love ice. So try a snow cone or crushed ice if they are refusing liquids.
My personal dad tip: If it's especially hot and humid I sometimes would forgo a thick diaper and put a cool, breathable underwear on my boy. Make sure you are prepared to clean up a messy accident if you do this.
Do you have any "daddy tricks-of-the-trade" for surviving while away from the house?