My wife loves camping and has been bugging me to plan a camping trip for the three of us. Let's just say I don't share her excitement. I used to love camping, but as I have gotten older it has become more reminiscent of work than relaxation. I blame this partly on the fact I worked for a residential treatment center where taking delinquent kids camping was part of my job. I left that job shortly after the last fiasco of a camping excursion which involved a combination of marijuana, fake injuries and a near mutiny.
Although Michigan has beautiful parks and places for camping, there are two factors which make camping not so enjoyable for me: unpredictable weather (more work for me) and black flies (unreal how much they love to chew on me).
However, I'm always eager to score points with my lovely wife so I am currently working on planning our descent into hell, er…um our a camping trip.
In a way this could be cool, because I have to basically buy all new equipment. (I gave away most of our camping equipment to some homeless guys I was interviewing for a project. Seriously, I did.) I'm also kind of excited to take Tessa camping. Mostly because I can use her as an excuse to buy the elaborate gear I plan on getting in exchange for agreeing to do this.
Here's my shopping list for the 3 main items which I believe will be essential for a pleasurable camping vacation:
Tent: With all the crap gear we will need for Tessa, we will need lots of room.
Below is the tent I want: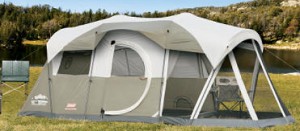 From Cabela's, it's the Coleman Legacy Weathermaster for $240. (It has a LED tent lighting system with a USB port in the light system power unit can recharge cell phones and music player…waterproof floors, self-rolling windows)
NICE, right!?!
However, I know this is more realistic: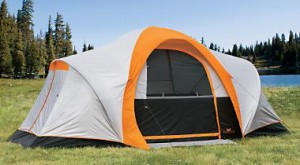 This is the Eagle's Camp Family Voyager Tent for $99 It's okay, but no LCD light, USB ports or other things that I might actually enjoy and get pleasure out of having.
I really liked that little section in the tent above where I can put my chair and hide from the black flies.
Camp stove: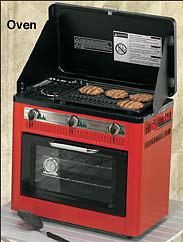 I have no chance in hell of getting this but it is so awesome. This is the Camp Chef Deluxe Oven with Grill. It's only $280, but comes with a top burner (7,500-BTU); oven (3,000-BTU), and the top grill has a 5,000-BTU output. Includes thermometer and two oven racks. Matchless ignitor burners. I can cook, so imagine the gourmet I could put together. I've done pretty well with much less and it will likely remain that way.
Like I said, no chance in hell.
(Even Hell, Michigan where we might be camping 🙂
I'll probably get this: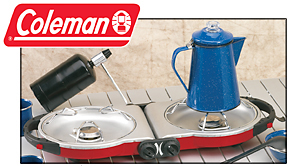 Remember all the gear and crap we'll need. That's why this will have to do. It folds up so it will be easy to pack into the back of our Prius. Oh yeah, forgot to mention that little nugget. We have one car, a Prius. I had a Blazer until we moved to Lansing, but since we were both working within a few miles of our house, my wife suggested I sell it. Yep, that's my story.
It's times like this when I miss that Blazer.
Finally, and this item is non-negotiable: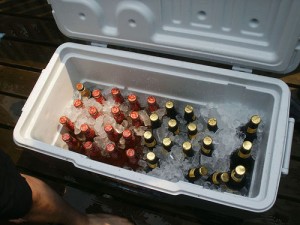 So what were your experiences camping with your baby? Any "gear" you would recommend? Any you would suggest leaving home? Please share your thoughts. I'm going to need all the help I can get (And in help, I mean actual help – not beer).