Sitting down at the dining room table as a family is hard enough with our fidgety son (as discussed at length following SeattleDad's post last week), a restaurant is a whole other ball of yarn. Every parent goes through the phase in which restaurants are just off limits. This holds especially true when multiple toddlers are involved. Boys certainly seem to make the experience that much less agreeable, but I have several friends with fidgety girls as well.
The issue is really about the restaurant's attitude towards kids. Discipline aside (we are not Chinese so as the article by Prof. Amy Chua, and TechyDad points out, our kids cannot be disciplined), the problem is keeping toddlers focused enough to eat some food and play as quietly as possible amongst themselves in their seats. A smelly sticker goes to those parents who can pull that off on a regular basis.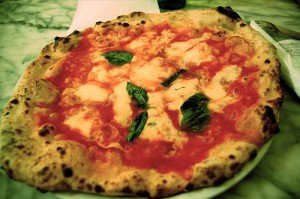 We rarely go out to eat and not just because of our son, but occasionally we like to meet up with friends, most of whom have young children themselves. The choices in my neighborhood are not many due to the fact that there are many posh restaurants as well as pubs, fast food joints and squalid take-away holes-in-the-wall. The family friendly places are usually boisterous and oddly have stairs, so you really have to want it. That leaves very little choice. Luckily a tiny pizzeria just opened down the street. The owners are from Salerno and they do not speak a word of English. They have also imported the very laid back serving style that is typical in Italy, especially the South. The pizza, though, is better than most places in Naples or Rome. They built a wood burning brick oven. The pizza is not "Americanized". There is no pepperoni (FYI… if you asked for that in Italy you would find Bell Peppers on your pizza), no pineapple, no meat lovers fest with thirty kinds of meat piled to the sky or shredded Kraft "cheese". A Pizza Margherita with just dough, unadulterated tomatoes, the right amount of mozzarella di bufala and a couple of basil leaves. All this "authenticity", down to the fact that they stubbornly refuse to deliver because the product would become "inedible" (their words not mine) once it becomes lukewarm in transit, does not bode well for their success, but I am really rooting for them – if for no other reason than their unconditional acceptance of rowdy family dining. The owners chuckle as my son crashes into them while chasing a friend around the cramped tables and they take your order over the din of cars crashing to the floor and toddlers imparting orders to their parents that inevitably start with "I want…" Although the adults wait quite some time for their food the owners instinctively serve the pizza you order for the kids first. This makes you not care that yours comes (often) much later or that in the States people expect to have more ice in their water than water – even when it's -40°F outside. The kids are happy because they eat right away. You can cut up their pizza without sticking your elbow in your own pizza that is getting cold and you can then enjoy your pizza as the kids (pretty much) play with their cars or books on a full stomach. They don't pressure you to leave and the few patrons who huff and puff about the ruckus are ignored. I am sure many of these folks will not be back, but we certainly do go back and actually enjoy the experience. Everyone rolls their eyes when there are kids in a restaurant and much like sitting with kids in an airplane you don't know what it is really like until you have kids. I am not sure it is the best of business models in the demanding Manhattan restaurant-scape, but it does feel like a home away from home and for now we keep our fingers crossed that it stays the course. I am always impressed by places like this one that actually understand that dining means everyone sitting down together over a meal, kids included. I wish there were more such places, but I also understand that many people go out to dine in peace and quite. Other than the very rare date night, this is my limited choice for dining out as a parent, but restaurants such as this make it much more pleasant to treat the kids. I am sure each town and city has such places although all sadly en route to extinction.