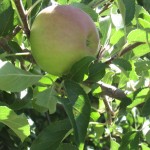 When the leaves start to change colors and the air picks up a little nip I start to get excited. I love the Fall and the changes it brings. I love the tasty coffee drinks and comfy sweaters that warm from the inside and out. My wife and I were married in the Fall and for our honeymoon we headed to the North East and enjoyed the Fall Foliage of Vermont. Now that we live in the North West the trees are mostly evergreen so the colors aren't as vibrant but the excitement is still there. It is that excitement that got us up and out of the house this past Labor Day to head up the Columbia Gorge in search of some Apple picking.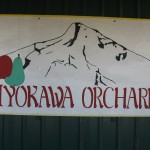 Apple picking season doesn't really start until mid October so we were a bit early but there was still family fun to be found. We drove along the Columbia River just past the Wind Surfers a Hood River and then turned South to head up towards Mt. Hood. There were Apple and Pear trees on all sides with the massive mountain as an ever present background. The first place we went to had a wedding that day and sent us on our way to another orchard near by. The second place was called Kiyokawa Orchard and while we couldn't pick any apples yet we could wander around and play amongst the rows of trees. Along with the apples trees there were a number of wagons, toy tractors, and large fort to play in. The boys lined up the wagons and ran around the fort while my wife and reminisced about going Apple picking just before our wedding. Before leaving we bought some sweet juicy apples, pears, and a couple of peaches to enjoy in the ride home.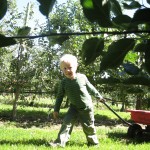 We had a great day exploring the orchards in search of ripe apples and fun with our boys. There are summer adventures to enjoy but with the change of season there are still plenty of adventures in Fall. Apple picking is a Fall tradition for our family, along with a trip to the pumpkin patch, and hot apple cider. What are the family traditions you have when the weather turns cooler and the colors start to change?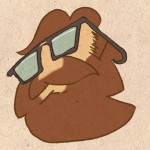 Portland Dad writes over at Stay At Home Dad PDX about raising two boys as a stay at home dad. You can also find him on twitter as Portlanddad.