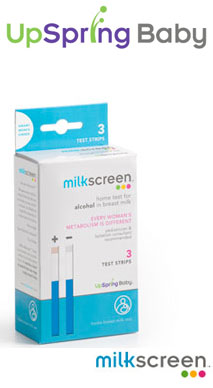 It's the week before Father's day and the good folks at Upspring Baby have teamed up with DadRevolution to offer a lucky Mom or Dad the opportunity to win one of UpSpring Baby's latest and greatest products, milkscreen™.
What is milkscreen?
milkscreen is a simple, two minute test to detect for alcohol in breast milk. milkscreen™ lets Mom know the volume of alcohol concentrated in her breast milk.
Why use milkscreen?
Because all mothers are unique! So, naturally the way our bodies process alcohol is unique, too. Metabolizing alcohol depends on several factors including:
* Body weight
* Type of alcohol consumed
* Food intake
In the past, there were only generalized guidelines for the questions surrounding breast feeding after consuming alcohol. Now, with milkscreen™, there is one simple and accurate method to let Mom know if her milk contains a level of alcohol that may negatively impact Baby.
Product Details
* 3, 8, or 20 strips per box
* Provides fast and accurate results
* Disposable
How to win it… Contest ends 11:59pm EST. June 20, 2010.
You must comment telling us briefly about your favorite father's day memory, please include some method for us to contact you in the comment (twitter or email)
You get 1 extra entry for following us on twitter – twitter.com/dadrevolution
You get 1 extra entry for tweeting about this contest (you can do this daily). Must contain the following information:
@UpSpring_Baby @dadrevolution – http://bit.ly/cHP8mI and you must also comment with the link to your twitter message.
You get 1 extra entry for following UpSpring Baby on twitter – twitter.com/UpSpring_Baby
You get 1 extra entry for becoming a Fan on facebook of UpSpring Baby – http://www.facebook.com/UpSpringBaby you must comment that you're a fan
You will have 24 hours to reply before we pick another winner!
Disclaimer: UpSpring Baby is providing the prize for the raffle. Visit UpSpringBaby.com for more information regarding milkscreen™ and their other product offerings.