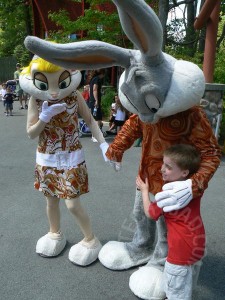 Of all of the ways to connect with your children, one of the most rewarding has got to be introducing your children to things that you were interested in as a child.  Not only do you wind up reliving some of your favorite moments from your childhood, but you build on them. You wind up not only seeing them with adult eyes, but seeing through your kids' new slightly different perspective.
Now, I'm under no illusions.  I'm a geek.  So the things that I like, the things I want to inspire my children to have interests in are geeky pursuits like comic books, cartoons, computers, and science fiction.  As NHL got older, he started showing an interest in geeky things.  Not only did he join the chess club, but he started working math into every conversation and drawing that he could.  I saw my opportunity.
First, I began introducing him to the wonderful world of superheroes.  I showed him the Spectacular Spider-Man cartoon and he enjoyed watching the exploits of Peter Parker/Spider-Man. Despite his spider-strength, he would often find himself outmatched physically or in situations where brute force wouldn't help. I soon began to see another benefit to sharing my geeky interests: imparting life lessons. I made sure to point out to NHL that Spider-Man knew that not every problem could be solved with physical force. Instead, Spider-Man would succeed when he thought through the situation and used his brain to come up with a solution.
A similar lesson came into play when NHL and I began watching Looney Tunes. I pointed out to NHL how the protagonist of the story is usually overpowered. Bugs can't exactly take on Elmer's gun head-on and Tweety can't beat up that bad ol' putty tat. However, Bugs can outsmart Elmer (quite easily, in fact) and Tweety keeps one step ahead of the putty tat thanks to out thinking him. Again, I used my childhood favorites to show NHL that, when he encountered a problem, the proper thing to do was use his brain to find a way out.
Of course, not everything I introduce NHL to will have a moral to teach. Still, I'm definitely going to keep an eye out for life lessons hidden away in my childhood favorites. What childhood favorites do you intend to introduce your kids to? Which have you already introduced them to? What life lessons could you work into those introductions?