Where ever you live there are likely no shortage of places to eat out with kids, but often those places don't exactly serve the best food for the parents. There are the kids menus/coloring books with the same five options you always find (chicken fingers, mac & Cheese, pizza, burger, and PB&J) and booster seats that may or may not have been cleaned in the last week. Don't get me wrong I dig these places as much as the next parent but there are times when the most convient place is not always the best option. Finding those rare places that are kid friendly, have a different vibe, and serve great food is something we're always on the look out for. Here in North Portland there are two un-conventional family restaurants that you would never guess were as kid friendly as they are: Miho and Pause.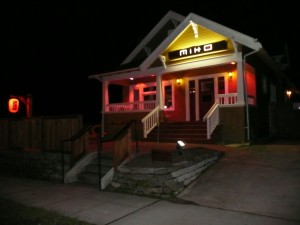 Miho is a new small plate Japanesse restaurant just around the corner from our house. We had avoided checking it out because it was new and trendy and we didn't think that it would be kid friendly, but on a beautiful Spring day a couple weeks ago we decided to chance it. They have outdoor and indoor seating so we thought worse case scenario we would let the boys run around outside while we ate. The menu consists of small plates of items that you order a la carte to create a meal. Beautiful asked what the can't miss items were and we tried the Misoyaki Eggplant, Fried Tatsuta Chicken, and the Yakisoba noodles for the kids. We soon added more items as we made short work of the first course. While we didn't care for the Eggplant (a little over cooked) we loved the chicken and the Sweet Chili spare ribs that we ordered later. The boys loved the new flavors and by having them try everything we had a good time watching their faces with each bite. The portions were on the big side of small plates and we had plenty to eat without spending much at all. The owner was behind the counter talking us through the menu and interacting with the kids. His excitement was infectious and we have been back a couple of times now. The boys love the food, we love the family friendly vibe, and new tastes and my wallet loves the prices.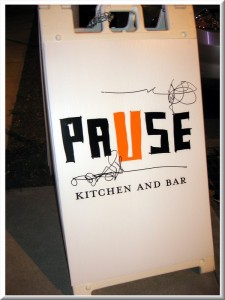 Just up the street is another family friendly gem called Pause. Pause is the local burger joint to our family but apparently they have all sorts of great menu items. Again some outdoor patio seating makes for a great space for the kids to run around and the free bowl of butter noodles for the kids that is served with the drinks makes this place a winner. Getting the kids going on something right away makes for a much nicer dinner and sneaking a noodle or two makes the wait for my meal that much shorter. Pause has daily specials that include fresh fish and seasonal options but the Two Sliders, Fries, and a Pint of Pale Ale for $7 is hard to pass up. Runner up in the Best of Portland Sliders category these are some tasty tini burgers that pair nicely with the beer. We have spent a number of summer and winter nights eating at Pause and have not run into a menu item we haven't enjoyed.
Getting out to eat with kids is a difficult endeavor and part of the reason we often resort to places we know will work. For our family getting out and trying new places has lead to some great finds right in our neighborhood as well as a couple of places that didn't work out. What are the places in your neighborhood that have been surprisingly family friendly?