April 4 of 2009 was all at once the happiest, most exciting and anxiety-producing day of my life.
It was the happiest because I got to fall in love instantly with my beautiful daughter Tessa.
It was the most exciting because I waited nine months to finally meet her, hold her and tell her how much I love her.
It was the most anxiety-producing because now that Tessa was here, I was a father for real now. I was a first-time father a month away from my 37th birthday. I was also a first-time father that was going to be a stay-at-home dad. Most scary though was that I was a first-time father who wasn't really confident he was cut out to be a good father.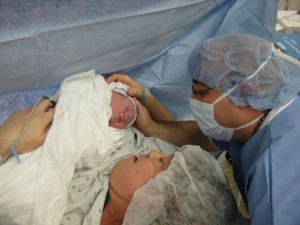 When I started my dad blog, Stay At Home Dad in Lansing, this past December, my original intention was to write a living testimonial about my life as a new father and stay-at-home dad. I didn't really have an audience in mind so much as I was doing it more for my daughter Tessa than anyone else. However, I never expected the added bonus of finding the positive and supportive online community of dads that I have found in the 'daddy blogger' community. I didn't expect to see not only the high number of dad blogs out there (even in relation to the huge number of mom blogs), but also the high quality of content I found in reading dad blogs. This inspired me to do more than share my own parenting story, but to also try to showcase and support other dad bloggers as well through my weekly Dad Blog reviews.
I've been impressed by this online brotherhood of dads who have supported each other no matter our differences in geography, ages, the number of children we have or whether we are WAHD, SAHD, single dads, adoptive dads, etc… What stands out so much in the dad blogger community is the comraderie and solidarity we show simply as dads united by one common bond: We love being fathers, and want to share this love with the world.
I'm really pleased to be part of the Dad Revolution, and excited to see what comes of this project. I'd like to think of the work of this 'revolution' and the fourteen dad bloggers featured on this site as a new fathering manifesto. As part of a new generation of dads, we are striving to redefine the "traditional" and antiquated approaches of our own fathers, grandfathers and so on. Due to our own sense of self-entitlement and male privilege, fathers have stood comfortably on the outside looking in for far too long. I hope you will join us as the members of the Dad Revolution share their stories about what fatherhood means to them.